Head Post 55 x 39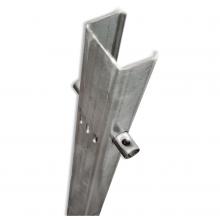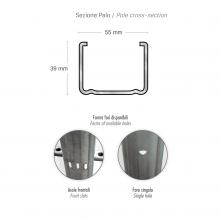 Head Post for vineyards
The head post for vineyards has an open section forming a "U" of 55x39 mm with longitudinal ribs, shaped  in such a way to mantain in time the reliability and the robustness. 
It is made with a stickness of 1,5mm, 1,8 mm e 2,00 mm.
It is presented in the versions with tubular stretch wire and single central hole.
In the tubular stretch wire version the wire is housed in the stretch wire side eyelets. In the single central hole version is possible to adapt any type of stretch wire.
Used materials:
DX51D and S250GD steel with pre-galvanized Z275 or magnelis ZM310 coating
DD11 and S235JR steel hot dip galvanized
S300J0W steel with improved corrosion resistance type CorTen
Standard lengths
from 1,50 mt. to 3,00 mt.
Depth
from 1,50 mm - 1,80 mm - 2 mm
Available Hole Shapes
Available with front slots and single hole