Inter-row 55x39 MAXI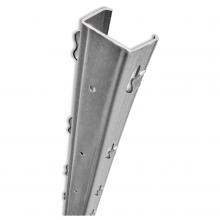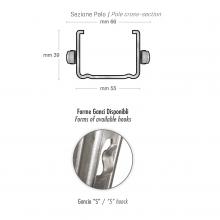 Description
The 55 x 39 MAXI INTERFILED POLE is a particularly robust pole, very stable and resistant to the torso-bending of mechanical harvesting machines. The slots are shaped in such a way as to facilitate the hooking of the wires and are placed at 10 cm one from the other, arranged outside the section of the pole.
Finally conceived and designed to meet the countless and specific needs of numerous winemakers.
Utilization
Used materials:
Steel DX51 and S350GD with coating Z275 g/mt2 (hight strength SENDZIMIR galvanizing)
Steel DD11 and S355JR with hot-dip galvanized coating in compliance with current legislation
Steel S300J0W and S355J0WP with "CORTEN" coating
Standard lengths
da 1,50 mt. a 3,00 mt.
Depth
da 1,50 mm - 1,80 mm - 2 mm
Available Hole Shapes
Available with "S" Hook